LS650 Laser rf cavitation machine, Popular for over 10 years!
Views:24 Author:Site Editor Publish Time: 2018-10-30 Origin:Site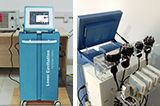 LS650 Laser rf cavitation machine is a good machine for body slimming and skin lifting!
Why it good?
1. It adopts the theory of lipo laser, vacuum, cavitation and rf.
2. It has one cavitation head, one big and one small vacuum fat removal heads.
3. Two laserX2 and four laserX4 pads with one hexpolar rf laser head.
4. You can use these working heads separately on the different parts of body.
5. You can also use them together to get a best effect.
Any problems, please feel free to contact us, detailed catalogue is prepared for you.
Bomeitong